Advantages a Round Rattan Tray That You Need to Know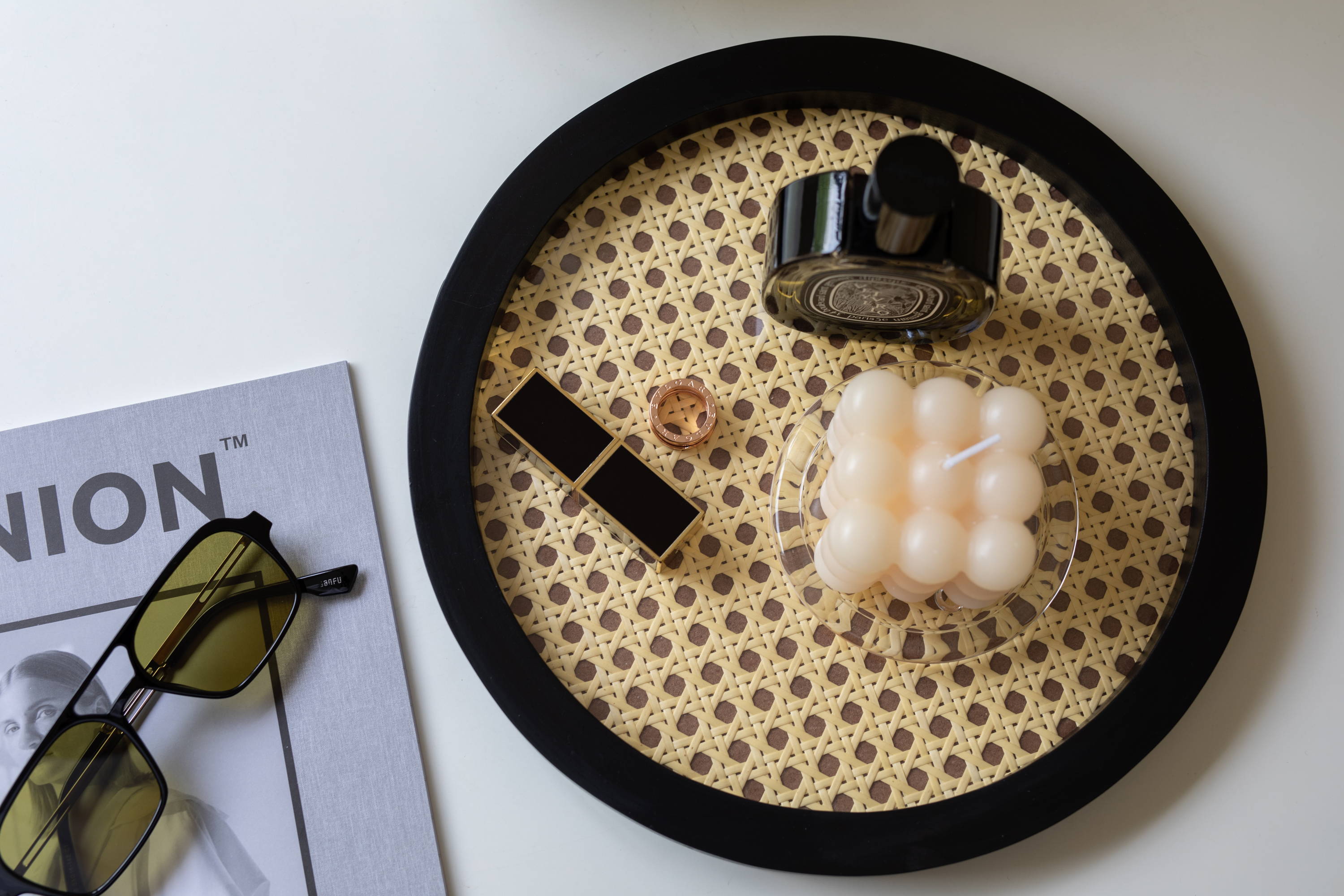 5 Advantages a Round Rattan Tray That You Need to Know
Sure we've seen natural textures such as rattan in both bleached and unbleached tones trending on social media, and we definitely love how they add an effortless chic bohemian look to your space.
But what if you're not yet ready to commit to a full-on bohemian décor? Then say hello to Abound Lifestyle Round Rattan Tray.
In fact, rattan trays are multifunctional and match any home décor style. You can put them on the table as a centerpiece, use them to serve drinks or snacks, or use them to organize jewelry or any knick-knacks.
But here are five advantages of rattan trays you need to know before getting one:
1. Environmentally friendly
Let's clear the air first. Wicker and rattan are commonly confused terms. Wicker is the weaving style, while rattan is the material.
A relative of palm trees, rattan trees are naturally growing vine-like species native to Southeast Asia and tropical regions of Africa and Australia. It is sometimes referred to as cane. But the cane is the skin of the rattan vine. It is peeled off and is used for weaving purposes because it is pliable and flexible.
Rattan is one of the most readily available materials worldwide since rattan trees grow easily and at a relatively fast rate. Also, rattan trees are generally easy to maintain, both in harvesting and transportation.
2. Lightweight and durable
Compared to plastic or even bamboo, rattan is sought-after for its several qualities. It is pliable, lightweight, and durable.
Because it is lightweight, you can easily carry items with significant weight from one place to the next without destroying your rattan tray. Additionally, these trays could reliably hold valuable items such as rings, necklaces, and other jewelry.
Plus rattan is more wear-resistant than its counterparts. You can use your round rattan tray without having to worry about wear and tear nor being damaged due to prolonged outdoor exposure.
3. Enhances the look of your décor
Where else would you put a decorative tray besides the coffee table? With the rattan try, you can tie the look of your entryway console, bookcase shelf, home office, or just about any surface in your home.
And since our round rattan tray is compact, it can easily fit in your dresser, nightstand, or vanity table.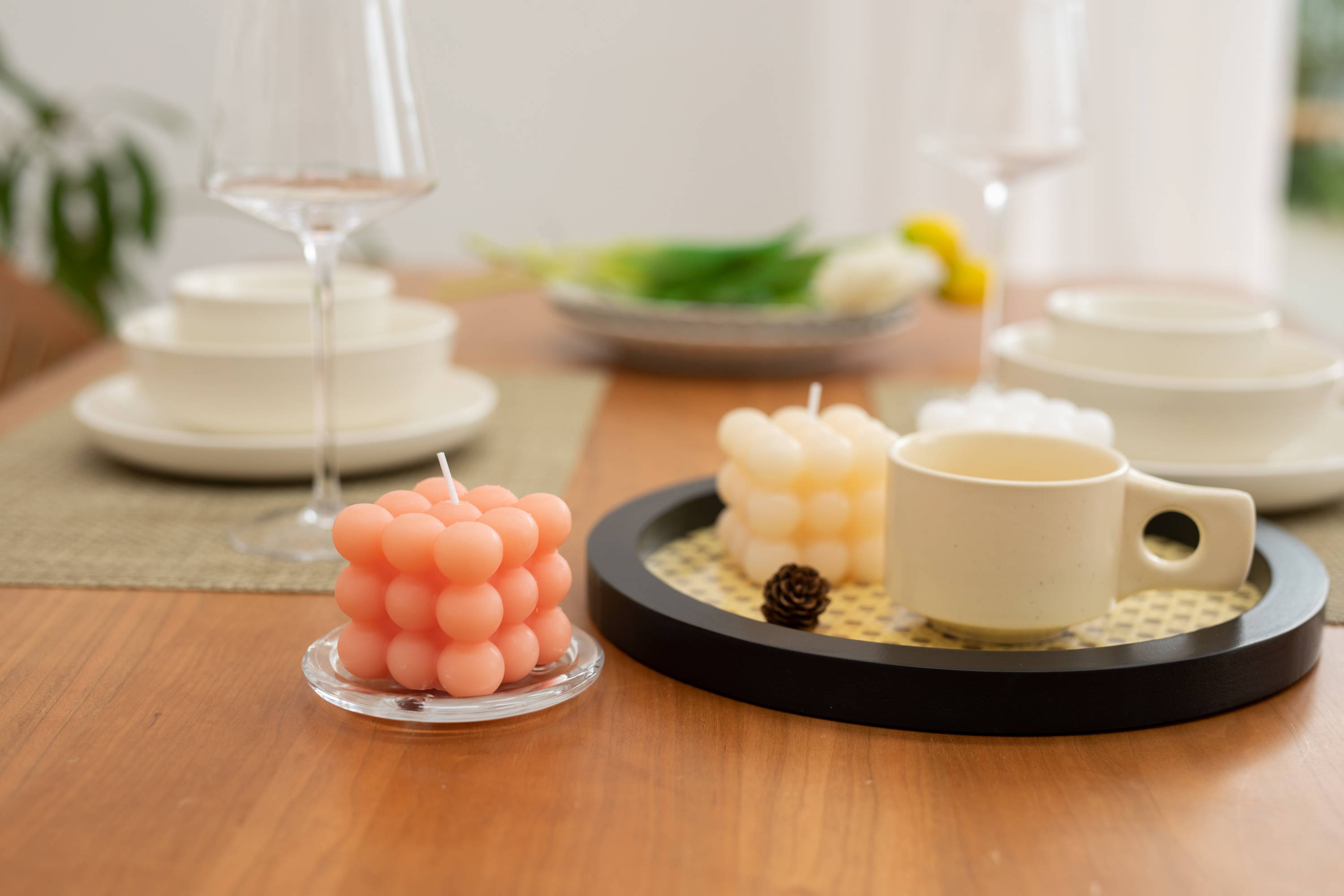 4. Designed with convenience in mind.
Since rattan is a natural material, make sure it would last longer than it should by adding a durable plastic surface to protect the rattan and also to keep small objects from getting caught up in between the weaved pattern.
5. Multipurpose tool for everyday use.
Rattan trays are often used as a home décor piece thanks to their calm, chic, and clean appearance. But they're more than that.
You can use the round rattan tray to carry things when you're entertaining guests or as a decorative piece to store your scented bubble candle. In fact, there are so many objects you can use to populate and decorate your tray.
First, decide what the theme would be for the room or space you want to decorate. Then gather the accessories or items you need. Don't be afraid to experiment until you get the right look with your tray in mind.
Now ready to upgrade the look of your coffee table, entryway, or nightstand with anAbound Lifestyle Round Rattan Tray?
Check out this infographics of why our rattan tray is your go-to multipurpose tray: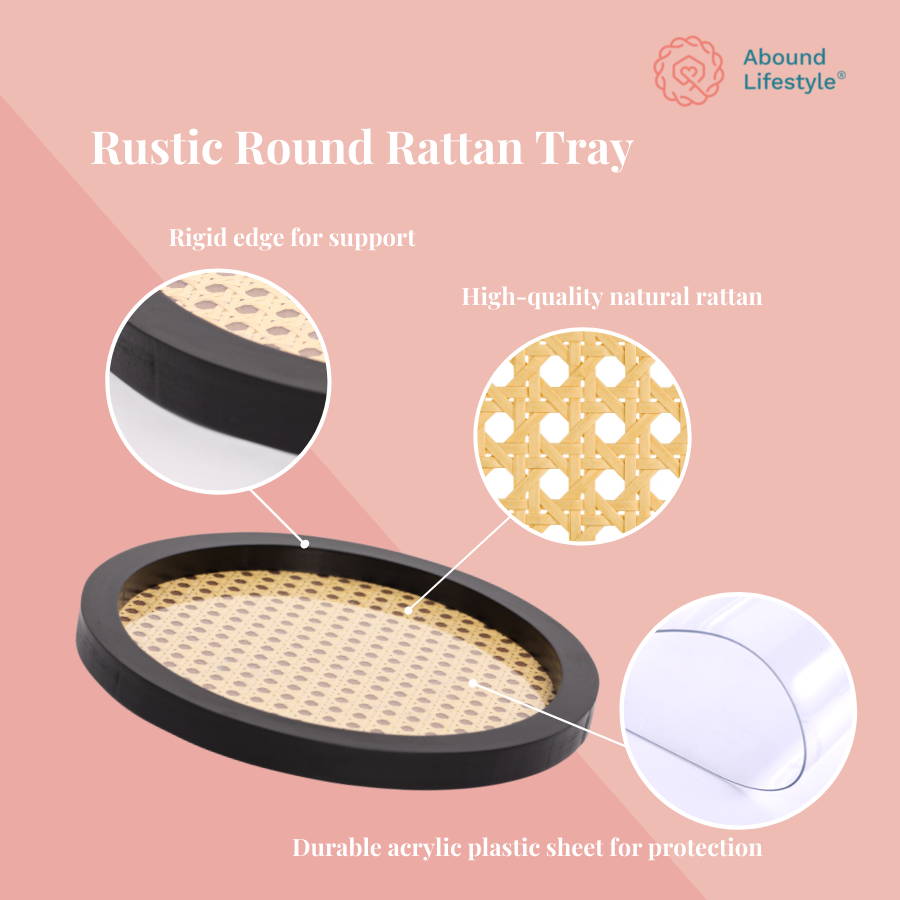 So fancy adding a touch of boho trend without having to go all out? Get our round rattan tray and nail that chic, clean look you've been dying to achieve.
---