Surprisingly Awesome Reasons to Get an Unstuffed Pouf Ottoman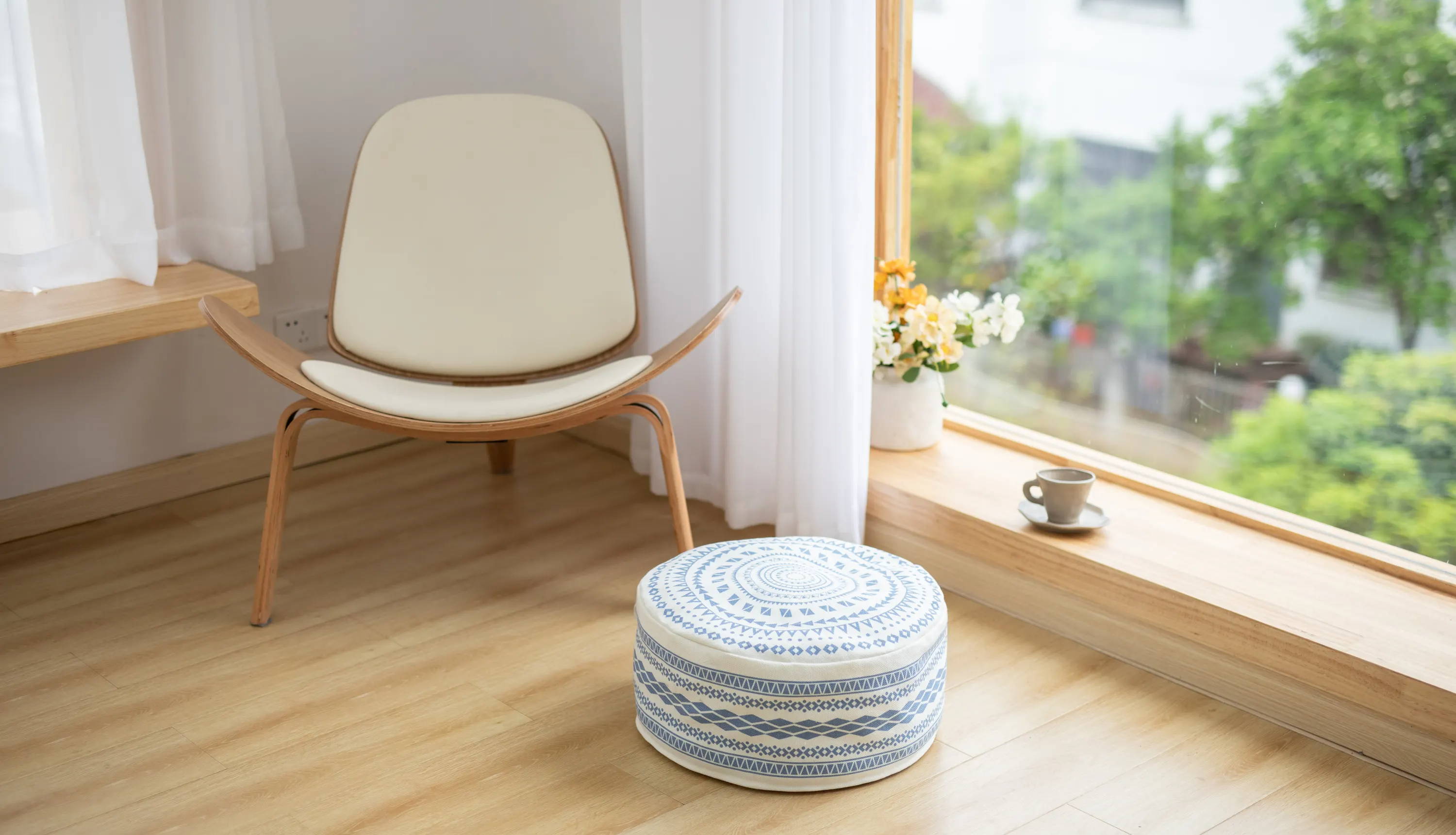 Top 8 Surprisingly Awesome Reasons to Get
an Unstuffed Pouf Ottoman
Don't you just wish that sometimes you have that extra space or container for stuff you have lying around? Check out this ingenious piece of storage that is as attractive as it is functional.  
An unstuffed pouf ottoman fits the bill perfectly if you are looking for that storage space that doesn't really occupy unnecessary space.
What living room doesn't benefit from the relaxing position gained from owning an ottoman? A pouf ottoman could be filled with those extra belongings that you just want out of the way but easily accessible whenever you need them.  
Although most want to get a ready-to-use stuffed ottoman, we think an unstuffed one is way better, and here is a list of surprising and compelling reasons why you need one right now:
1. A functional storage space that is surprisingly spacious.
It can fit twenty plus children's winter jackets or 20 to 30 books or one king size chunky knit blanket. Imagine that much space to store unnecessary items.
2. Compliments that favorite chair in your living room.
Go ahead and put your feet up on these ottomans for a relaxing time. There is nothing like putting up your feet to relax after a long, hard day at work or at play.  
3. Provides extra seating.
These ottomans can be adopted as extra chairs or stools. Having that extra seating might just make that quick get together with friends a little bit more fun.
4. Provides relief from back pains.
Kicking up your feet while seated provides a more natural position that does wonders for your back. Ottomans relieve back pain caused by bad posture.
For tall people, having an ottoman in front of them while seated makes their feet relax in a way that they don't feel like they are squatting.
For shorter individuals, having their feet dangling while seated is no fun, too. This position pulls the bottom half of their body forward and puts their back in an unhealthy curve.
An ottoman relieves this stress by raising their feet to a more neutral position relative to the rest of the body.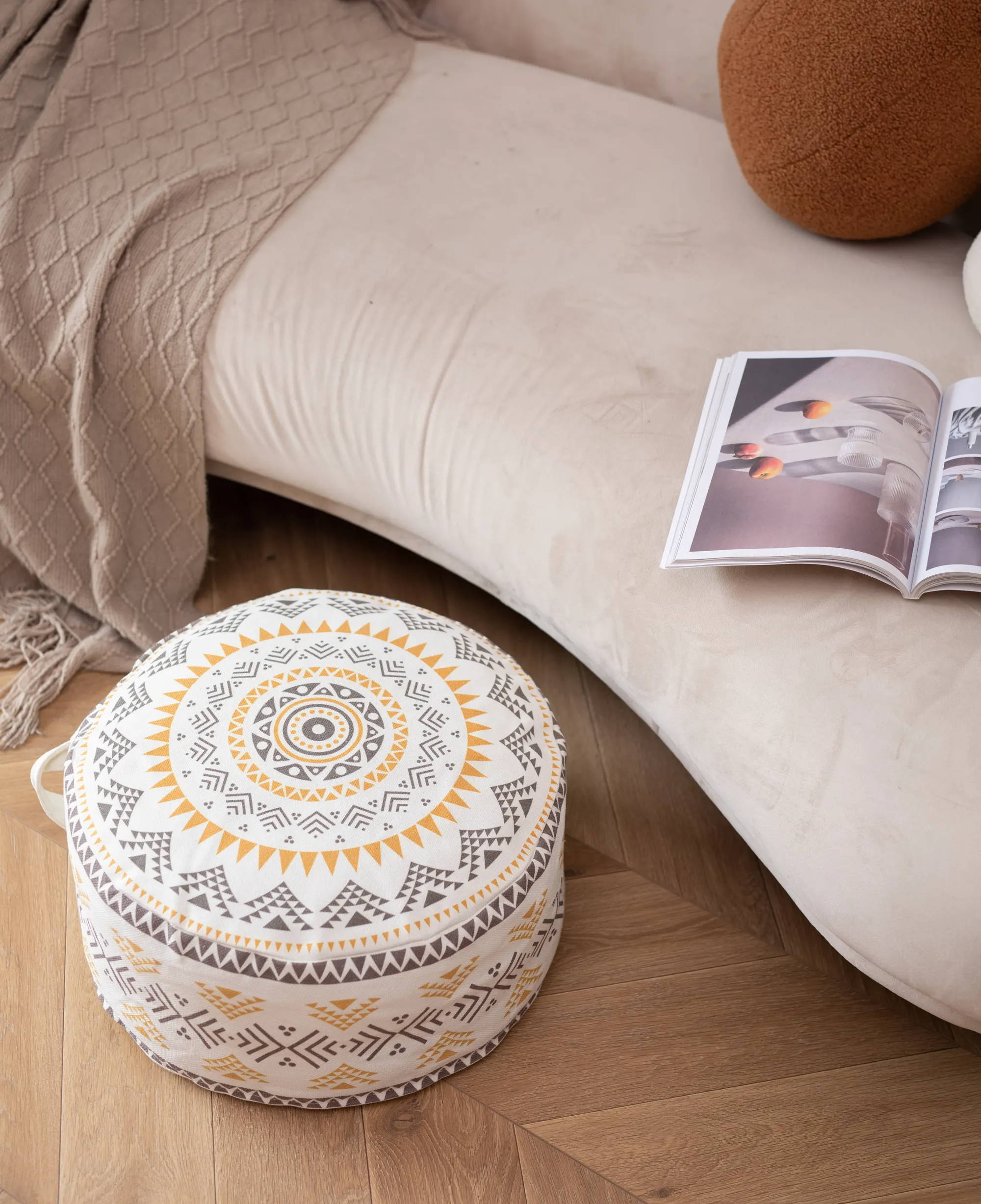 5. Aids in better blood flow.
When the body is out of alignment, like in the case of poor posture when seated, stress is introduced to the muscles and ligaments. This stress restricts blood flow through the body and can cause pain in the lower extremities, numbness, weakness, and difficulty in breathing. An ottoman prevents this condition by putting the body in a position similar to sitting up in bed. A relaxed seating position where the body is correctly aligned with no unnecessary stress on the muscles and ligaments.
6. Can serve as a focal point in any room.
Both decorative and functional, these attractive ottomans can add style to any room. With boho pouf ottomans, you can create the boho vibe that everyone has been raving about and put one of these ottomans in any room and watch it become the centerpiece of your décor.
7. Makeshift coffee table.
Ottomans can work in a number of ways, for example, as a makeshift coffee table. Simply put a sturdy tray on top, like our round rattan tray <add link>, to hold items steadily and prevent any spills. Plus, a large tray on top of an ottoman allows you to use this piece as another piece of furniture without having to commit to buying another one.
With unstuffed pouf ottomans, you could save a lot on shipping costs. Ready-to-use stuffed ottomans are really costly to ship, and a great majority of the costs pay for filler shipment, which doesn't add any value.
But with unstuffed pouf ottomans, you can add in your own filler, which could be unused items around the house.
Here's an infographic to give you an idea how much you can fit in one pouf ottoman and what kinds of items you can use!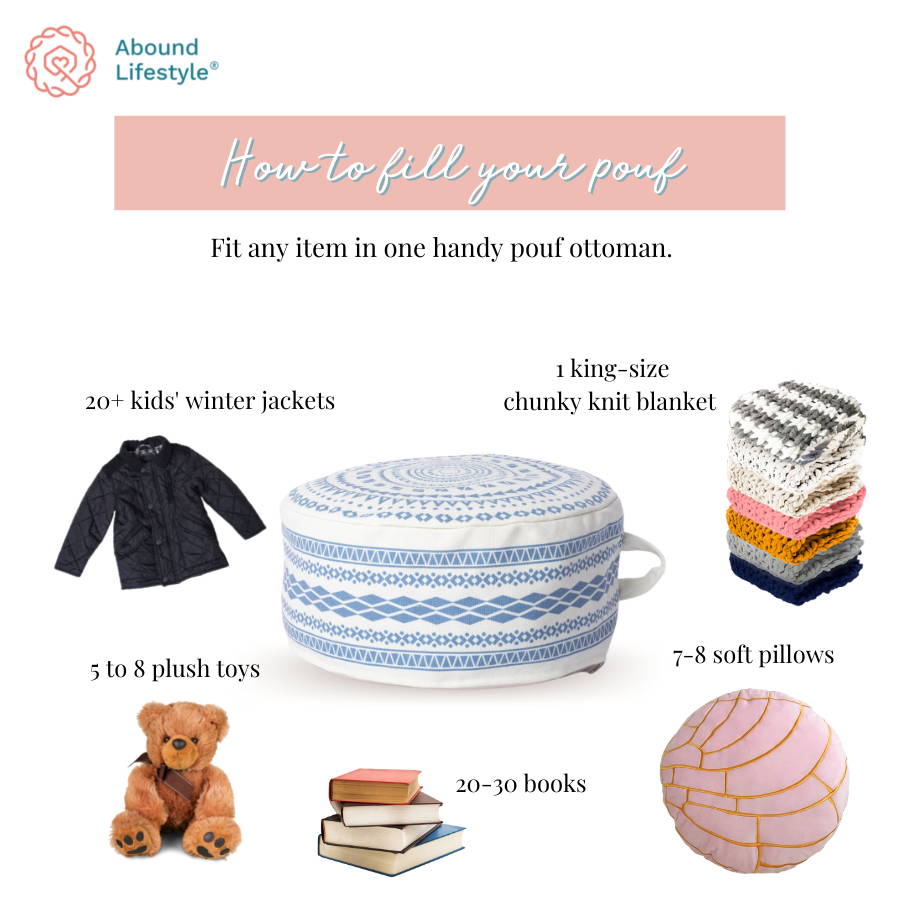 So if you want a piece of furniture that's multipurpose and can take the place of another furniture like a coffee table or act as a storage space, then opt for a pouf ottoman. Plus they're ideal for homes with limited space.
If you do decide to get an ottoman, then shop our selection of boho pouf ottomans and reap its many benefits. Do let us know by tagging us @aboundlifestyle on Instagram and Pinterest pages.
We would be more than happy to showcase how you style your home to other homeowners so they too would be inspired to create their own boho-themed décor.
---