Unique Home Décor For Everyone On Your Valentine's Day Gift List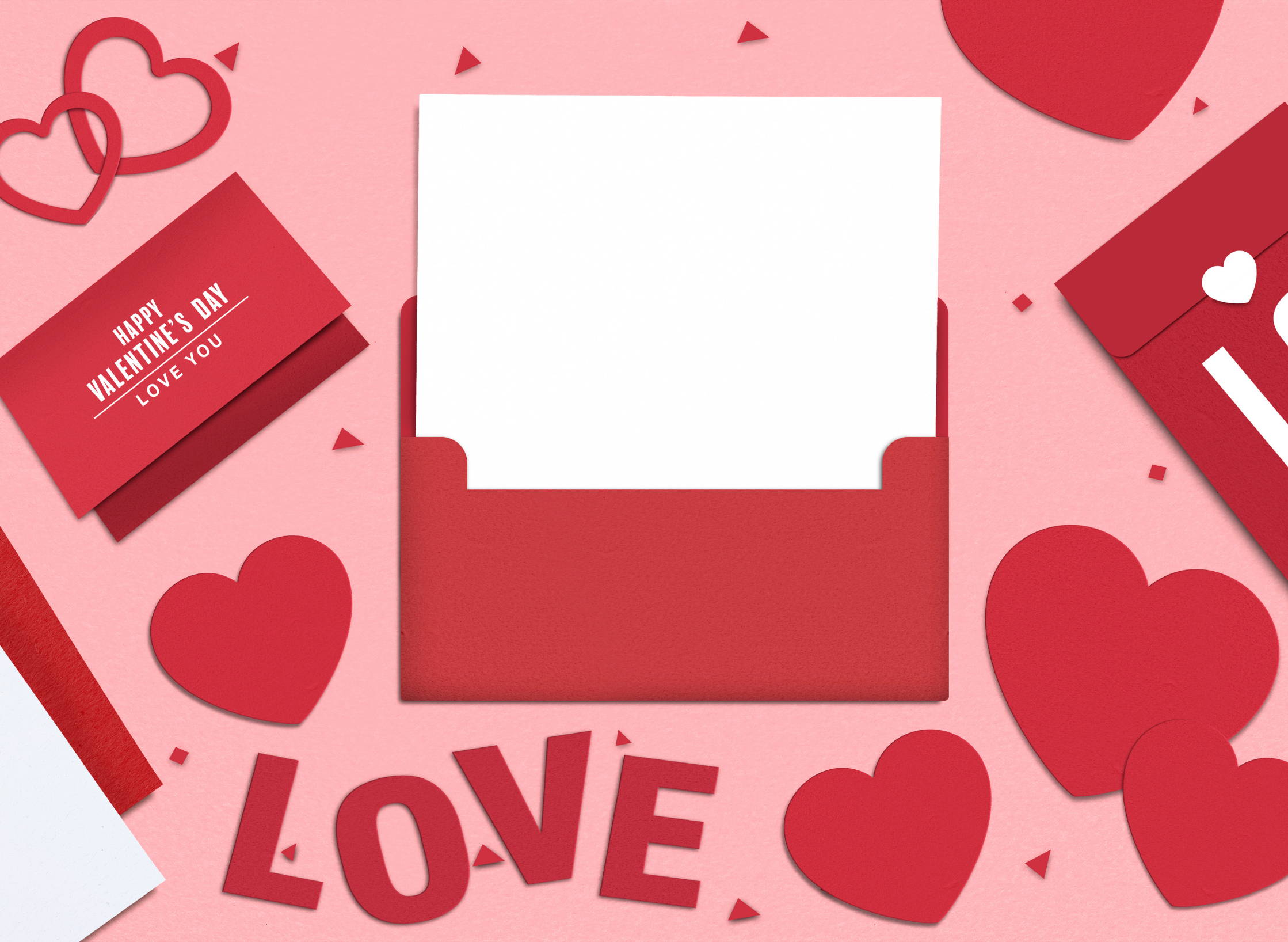 Unique Home Décor For Everyone
On Your Valentine's Day Gift List

Ah, Valentine's Day. That holiday where you buy a gift for the person(s) you love the most but sometimes the most expensive gifts are not always the best ones. But don't worry — we've got your back!
You need not spend a fortune on Valentine's Day gifts this year. With these unique and affordable home décor finds, you can find that perfect gift for everyone on your list. These presents are sure to bring a smile to their face — and they don't cost an arm and a leg. Brace yourself, because these picks are bound to be the hottest gifts of the season.
Take a look at these wallet-friendly yet creative ideas for home décor as a Valentine's Day gift.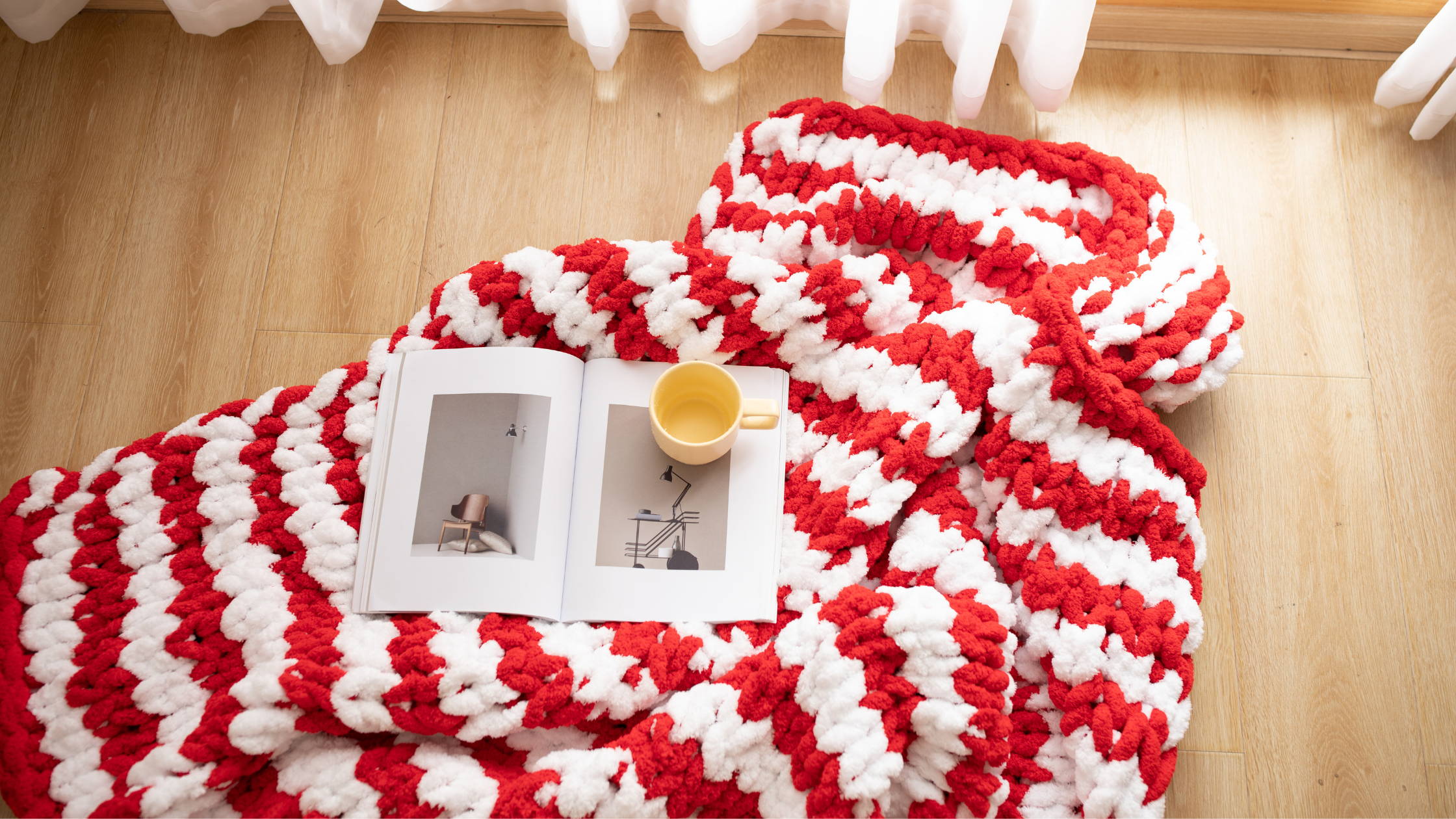 Classic, Cozy, and Sure to Keep Them Warm All Year Long
The cold weather season—all seasons really—calls for lots of snuggling, so if you're looking to give your loved ones the perfect Valentine's Day gift, a super soft and cozy chunky knit blanket might just be it!
Nowadays, there are many different types of blankets on the market. If you search online for "blankets," you'll find thousands of products with different designs, sizes, materials, and patterns to choose from.
That said, when shopping for a cuddle-worthy blanket this Valentine's Day, you may want to consider buying one that is vegan and chunky!
Abound Lifestyle's chunky knit blankets are as beautiful to behold as they are practical to use. Equally stunning spread out on the bed or simply draped on the couch, the myriad of available colors should make it easy enough for you to find the one gift.
These blankets are hand-knit with 100% mill-dyed chenille, a great alternative to Merino wool, a natural fiber grown and harvested from Merino sheep. This means each Abound Chunky Knit Blanket is made of a cruelty-free and vegan material. The result is a beautifully crafted blanket that not only adds texture but also brings a warm and homey vibe into any room in your house.
Additionally, weighted blankets are all the rage—and for good reason. They're designed to feel like a warm hug, which can help reduce anxiety and promote better sleep. The gentle pressure that hugs you back is known as deep pressure stimulation, or DPS for short, and it's used by therapists to treat children with autism — a.k.a. those who benefit from DPS most.
Plus, these blankets are perfect for cuddling up on the couch on cold nights, not just for helping you fall asleep more easily at night.
The best part is that it's machine-washable and hypoallergenic so you don't have to worry about dust mites or other allergens. Available in 9 rich colors and patterns, you can find the right match for your home!
Don't forget to treat yourself too! Even if you're single this February 14, you can celebrate self-love by pampering yourself with everyday luxury.
Go from Basic to Superstar with These Statement Pillows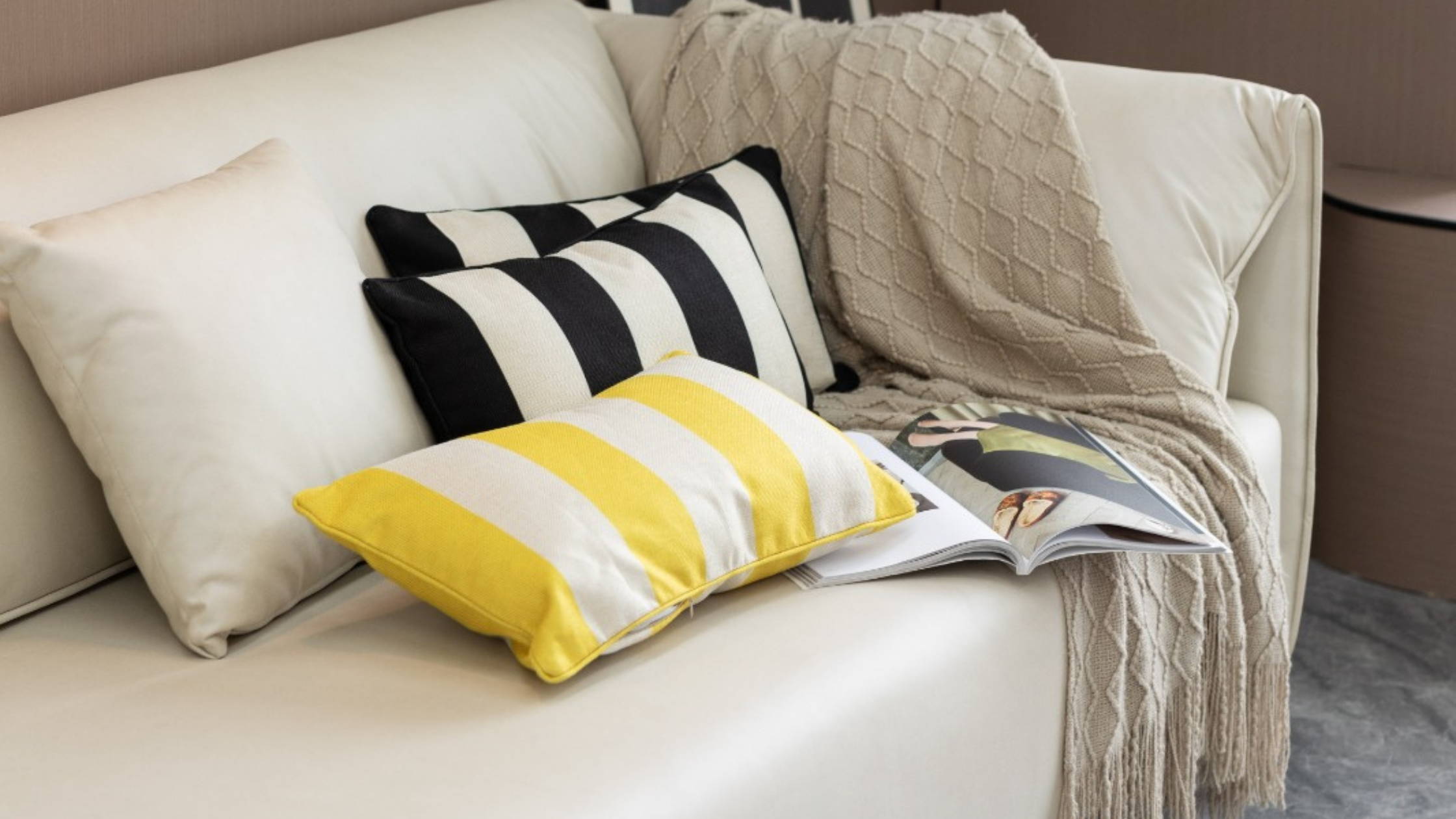 A good home can make you feel relaxed, inspired, and happy. You'd be surprised at what a difference having the right accessories around your home can make.
A great way to add some character to any room is with some cool home décor. So if you're looking for a gift for that one person who has everything, or just want to treat yourself to a new unique pillow, check out these novelty pillows!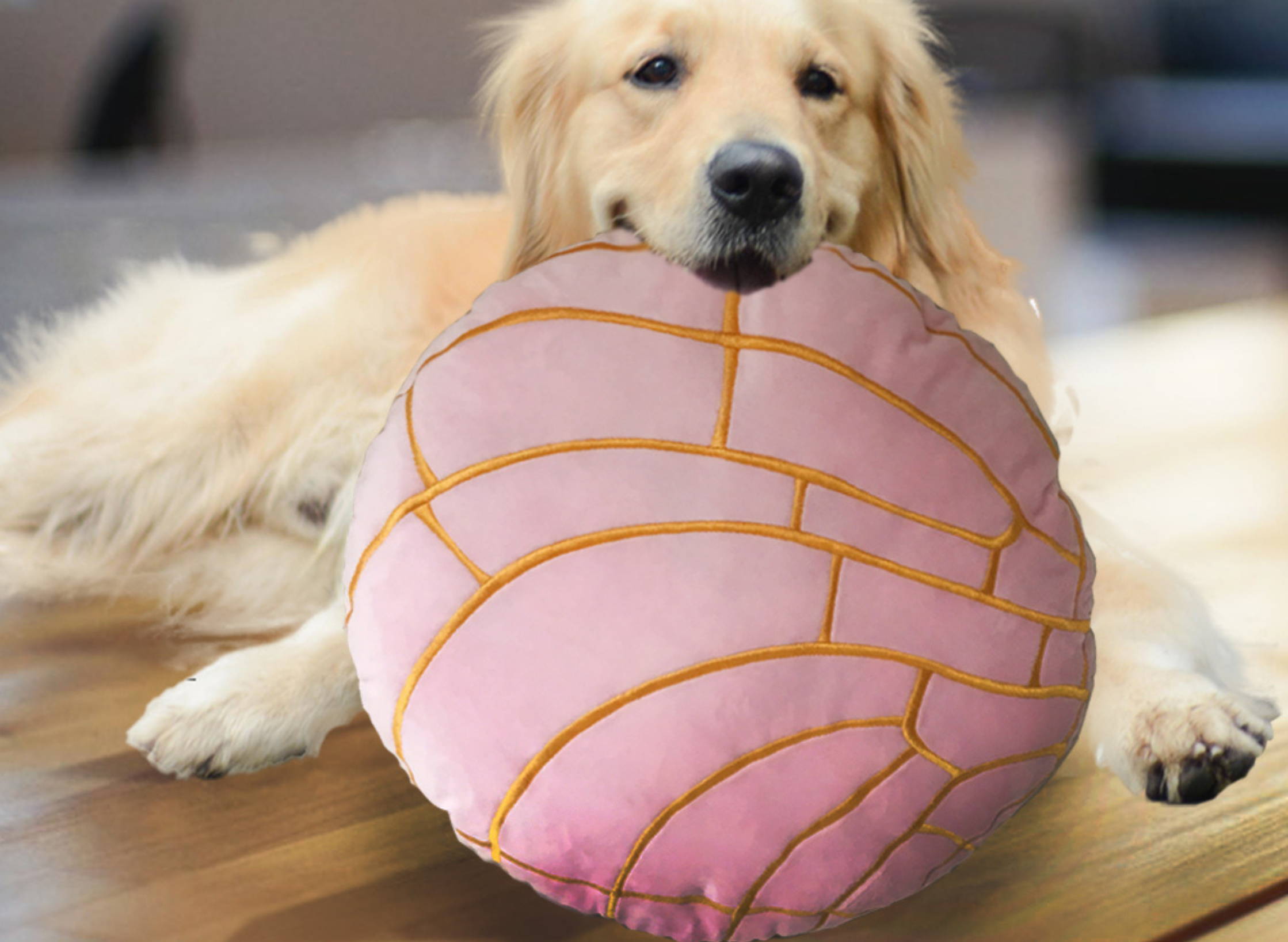 Pan Dulce Concha Pillow - A Statement Pillow to Sweeten Your Home

A sweet surprise for all ages – Abound Lifestyle's pan dulce concha pillow. Not only could you gift this to your sweetheart, but also this will bring joy to your sister, brother, roommate, bestie who loves sweet breads, or even your mom!
Designed to look like the iconic Mexican sweet bread, our plush concha pillows will brighten your boring sofa, love seat, or bed or impress your family and friends by your gift-giving prowess.
Since these pillows are mostly for decorative purposes and you're not going to sleep on them every night, they will hold up longer and retain their fluffy, soft texture.
They come in 3 "delicious flavors" (chocolate, vanilla, and strawberry) and two sizes – 13 inches and 15.7 inches.
You can't go wrong with these delicious treats!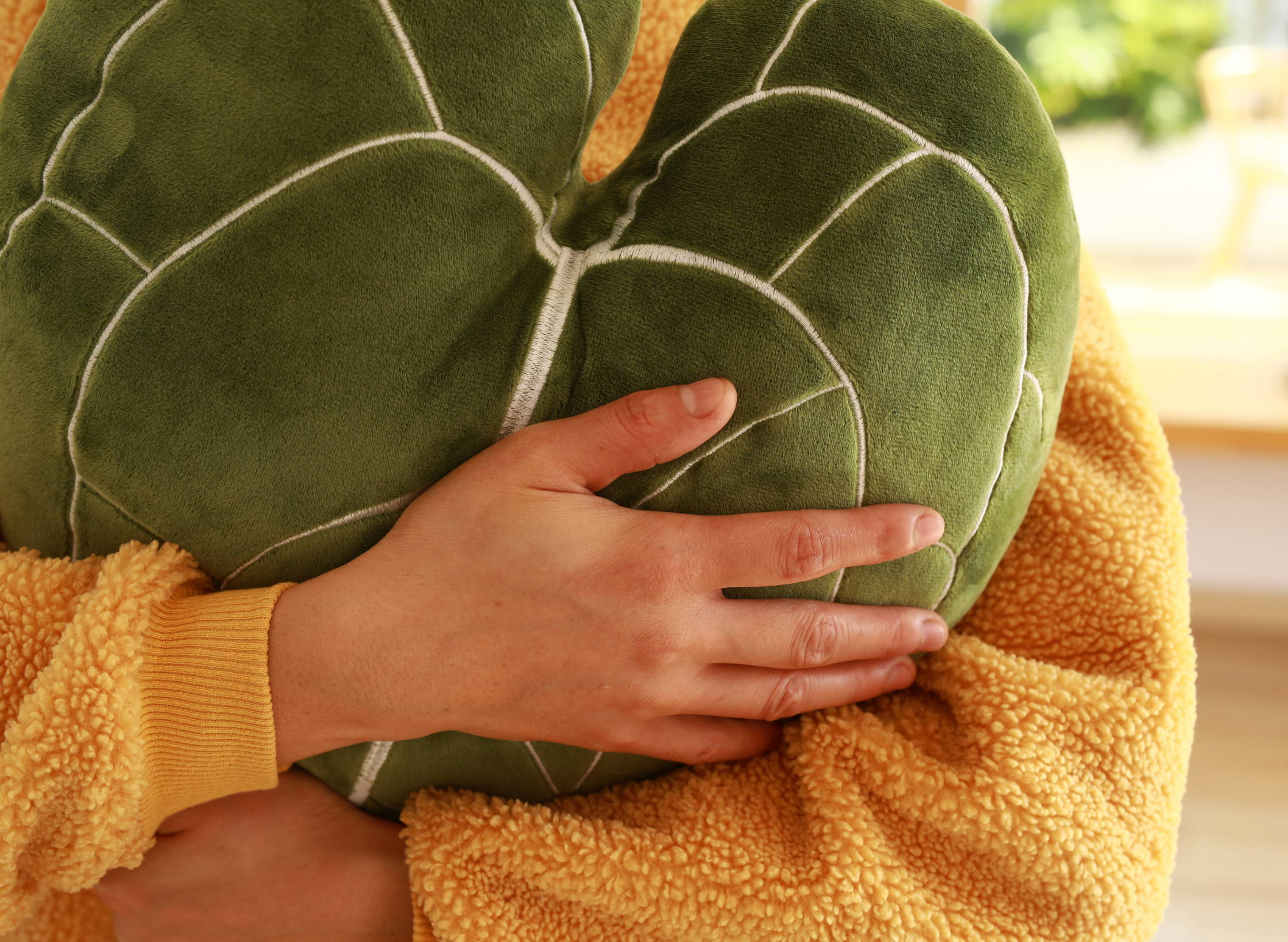 Succulent Pillow – A Gift for All Plant Lovers

Succulent pillows are a great choice for Valentine's Day as well – you can use them to decorate any room in your house or even give them as gifts to loved ones who enjoy gardening or just want something different this year.
What makes each pillow unique is that we've tried to capture the them unique colors of the different varieties of succulents, so every plant lover could enjoy these plant-like pillows all year round!
Plus they make for great conversation starter when you have guests over!
Choose from 5 unique color—lime green, blush pink, lotus white, hunter green, and olive green. And let's not forget the realistic Anthurium Clarinervium Green, shaped like a heart!
So if your loved ones do enjoy greens, they'll surely appreciate these soft, realistic succulent pillows. Indeed, throw pillows are the most decorative accessory you can add in any room. Who knew sleeping with a plush succulent pillow would be this enjoyable?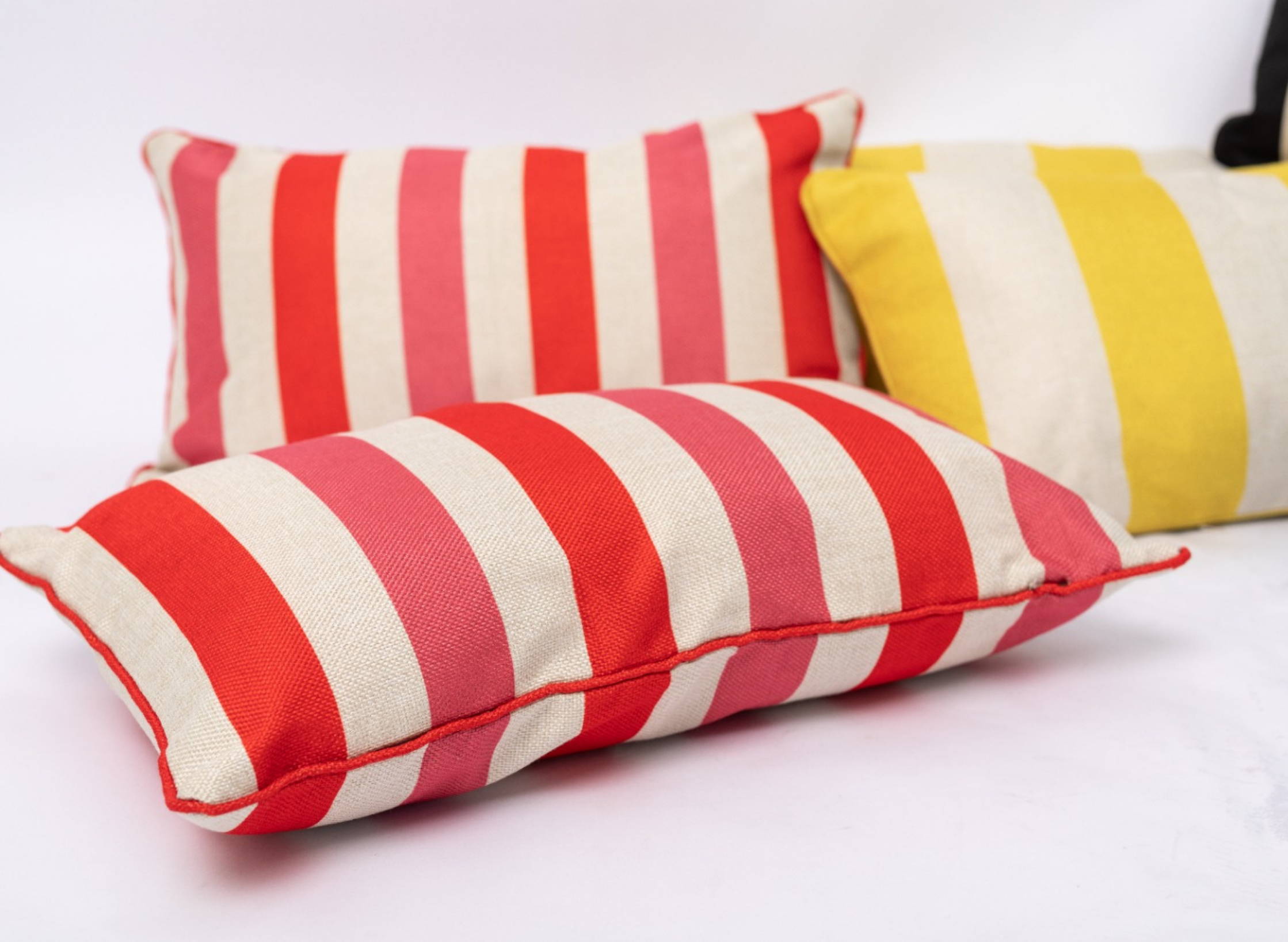 Striped Lumbar Pillow Set – Stylish Pillows with Ergonomic Support

Why give a boring lumbar pillow when you can give your sweetheart—or mom, grandmom, or dad—a lumbar pillow covered in colorful Cabana stripes?
Abound Lifestyle's indoor and outdoor lumbar pillow set features a double-sided print and washable cover. An essential decorative staple for your living room couch, armchair, lounge, sofa, throw, floor, outdoor garden patio, bench or bedroom.
You get to choose from 4 rich colors and patterns that will best fit any design style - colors that will keep you happy all year round.
Each piece is designed to brave the elements, meaning you can leave them out in the sun without fear of the colors fading. They're hypoallergenic and machine washable for easy care.
The best part – for the price of one, you get two pillows. Indeed, double the fun this Valentine's Day.
A Quirky Home Décor Accessory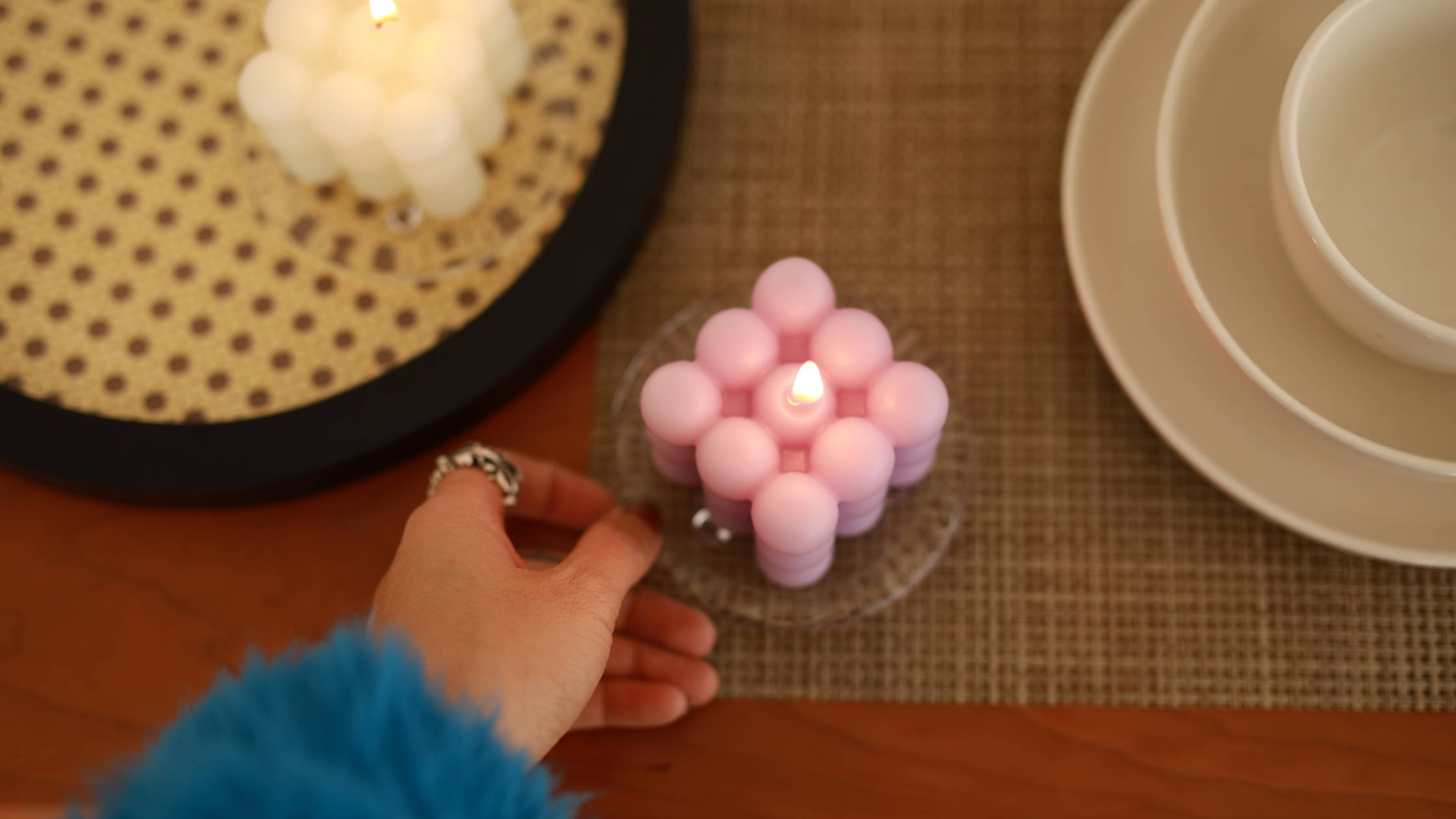 If you want to give the gift of a relaxing evening this Valentine's Day for that special someone, a candle is a great way to do it.
Abound Lifestyle's scented bubble candles offer an affordable way of experimenting with new décor trends that don't end up getting thrown away if they do not match.
Our scented candles also have many other benefits. Not only do they smell amazing, but also they can help create a relaxing atmosphere and are just generally pretty to look at. Your friend who loves to entertain will love using them as décor during their next party, and your mom will be overjoyed by the way it makes her home smell so nice.
So if you're shopping for someone who lives in their own home, consider picking up a household accessory that can be displayed and used daily. For some people, flowers or chocolates just won't cut it when it comes to Valentine's Day gifts. (And let's be honest, they tend to get boring after a while.)
Plus, if you find a scent that triggers a beautiful memory, it's one of the most thoughtful gifts you could possibly give. And because they can be so special, the receiver may just think of you every time they light that perfect candle.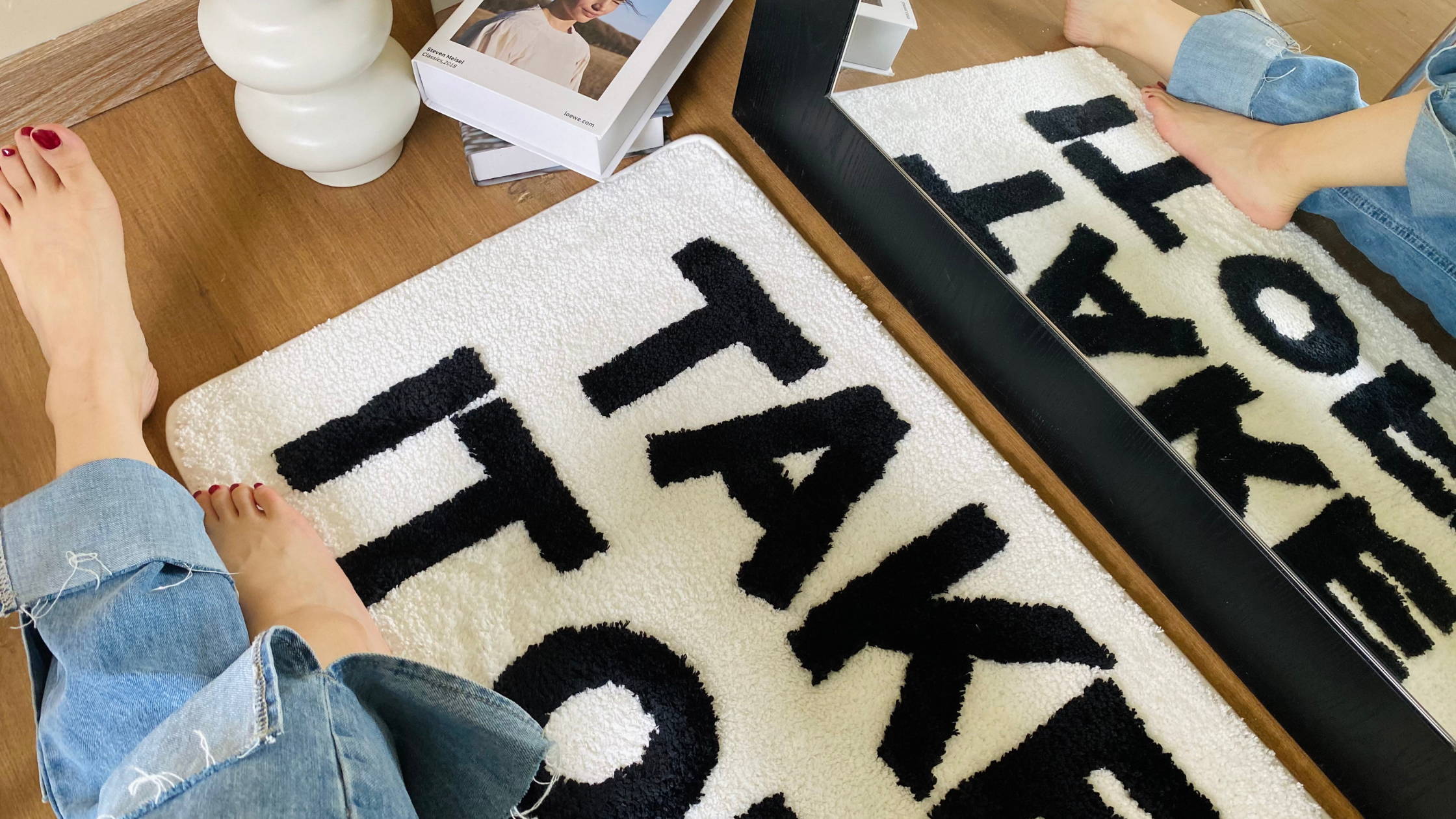 A Fun, Cheeky Statement Piece
Perfect for Valentine's Day, this printed tufted bath mat will be the talk of the town when guests arrive and ask where you got it!
Made with tufted polyester microfiber for maximum absorbability and durability, this bath mat is machine-washable. Its underside of the bath mat features a non-slip latex backing for safety and to prevent slips. It is also big enough for two, measuring 20" x 31.5".
For a long-lasting print, this bath mat also features a tufted raised letter design.
But the best part—the fun, cheeky print makes your morning routine more fun and smile-worthy. Available in two designs, "Take It Off" and "Get Naked," you can easily match any existing bathroom décor while adding a little bit of fun.
Unstuffed Boho Pouf Ottoman
The Multipurpose Surprise
What do you get the person who has everything? This year, choose a unique and personal gift that will add style to their home.
A boho pouf ottoman is a versatile item that can be used in any room of the house. If you're looking for a gift for your boyfriend or girlfriend, this one is sure to impress. When it comes to gifts for your parents, grandparents, or other family members, here are some ideas:
For Mom: Moms love to use boho pouf ottomans as footrests and extra seating. They also make great side tables holding things like books, plants, small objects, and snacks.
For Dad: Dads appreciate having something comfortable to sit on while watching television or reading the paper. Pouf ottomans are easy to move around and can be used as extra chairs for guests during holiday dinners and parties.
For Grandma: Grandmas love these colorful cushions! Use them as décor pieces or as an extra seat in her living room.
For Grandpa: This floor cushion is perfect if he wants something comfortable but doesn't have much space available in his home office or den area of the house. The Moroccan-inspired patterns and colors complement any decorating style and make it easy to match existing furniture pieces already there with little effort needed.
No matter what your style is, one thing's for sure—you can never go wrong with a good pouf ottoman.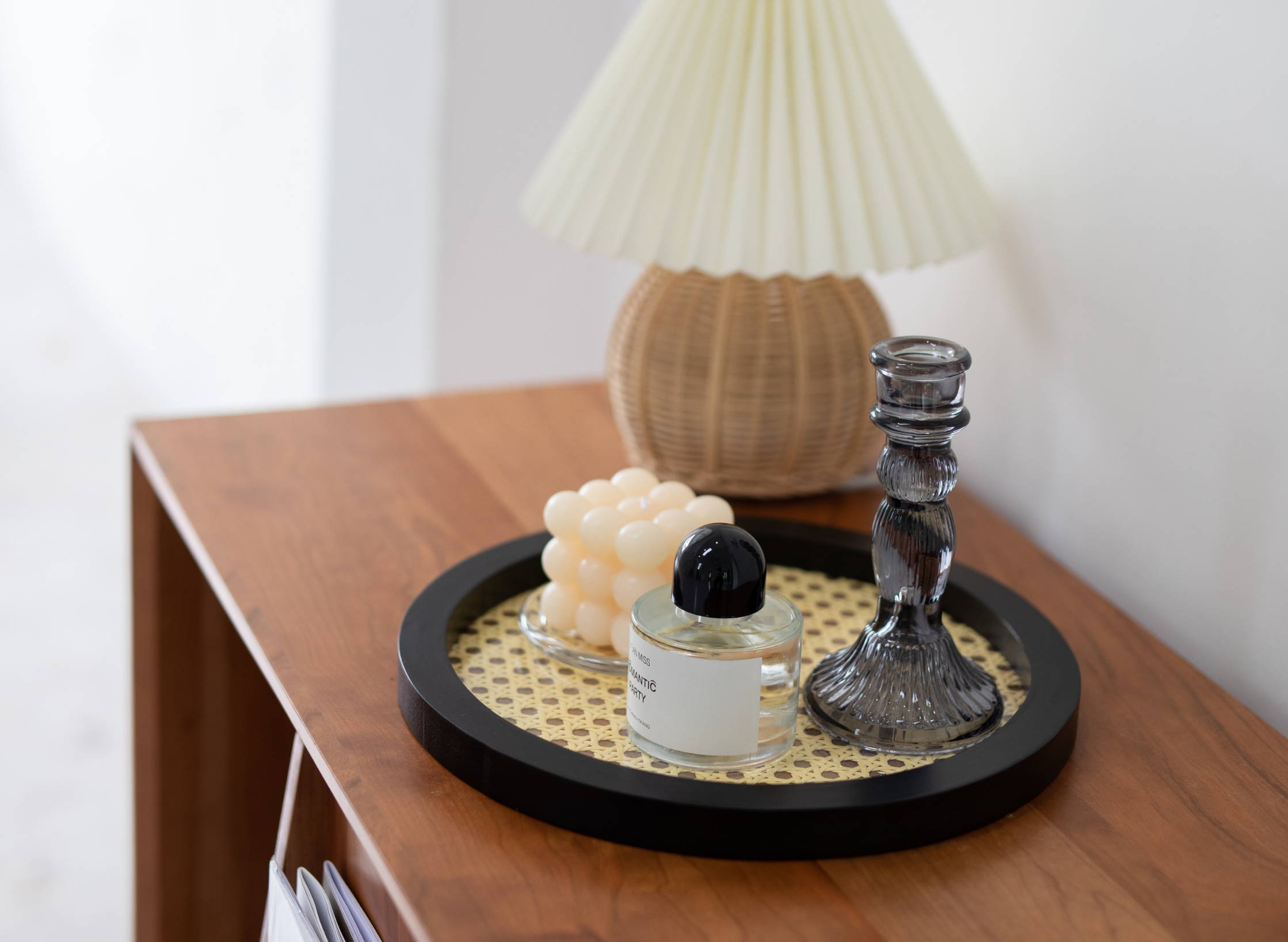 A Romantic and Practical Gift
What better way to celebrate love than with gifts that are both romantic and practical. A round rattan tray is one of those gifts, because it's something you can use every day to remind yourself of how much you care about someone.
Rattan trays are often used as a home décor piece thanks to their calm, chic, and clean appearance. You can use the round rattan tray to carry things when you're entertaining guests or as a decorative piece to store your scented bubble candle.
Our rattan tray comes with a durable plastic surface to protect the natural rattan material and also to keep small objects from getting caught up in between the weaved pattern. This also makes for a durable, longer-lasting tray that you can treasure for years to come.
And compared with either bamboo or plastic, our round rattan tray is lightweight and compact. This means it can easily fit in your nightstand, vanity table, or dresser.
We hope this list has proved to be helpful! If you're still searching for the perfect gift for your favorite loved one, hopefully these stylish options helped spark some inspiration. Each one of these affordable home finds is handpicked to appeal to different personalities and tastes, so no matter who you're shopping for (or how much you have to spend), there's something perfect on this list—for every version of their Valentine.
---